I've spent lots of time on Pintrest obsessed with super pretty laundry rooms like this:
A far cry from mine, which looked like this:
I love when bloggers talk about their room budget. Mine had no budget because I should honestly not be spending anymore money on home decor. And yet…
I stumbled on a golden oak cabinet in need of a home for $10 at the ReStore and home it came. And sat. Paul had no clue how to hang a cabinet and DIY is not as exciting for him as it is for me (to put it mildly). But when faced with the opportunity to  add on to our Awesome Amish Carpenter's existing project list, I knew it was time to make my Pintrest laundry dreams come true.
I primed and painted away the cabinet's dated golden oak to a nice crisp white. I adored the funky wallpaper in my inspiration room, but my hatred for dealing with traditional wallpaper runs deep. I settled on a grey and white trellis-patterned contact paper for an accent wall. Then I got carried away (hard to believe, right?). Why do one wall when you can do the whole darn room? I envisioned chair rail and an accent color below. Luckily, we had extra wood from all the other projects, so my friend the carpenter hung the cabinet, cut shelving, and installed the chair rail. I followed with pretty pale grey paint. It was looking darned good if I do say so myself.
Except for the ceiling, which still looked like this:
Ugh. I hate dropped ceiling. Paul vetoed calling in someone to install a drywall ceiling, and these pretty tin ceilings were way to expensive, even for my tiny room: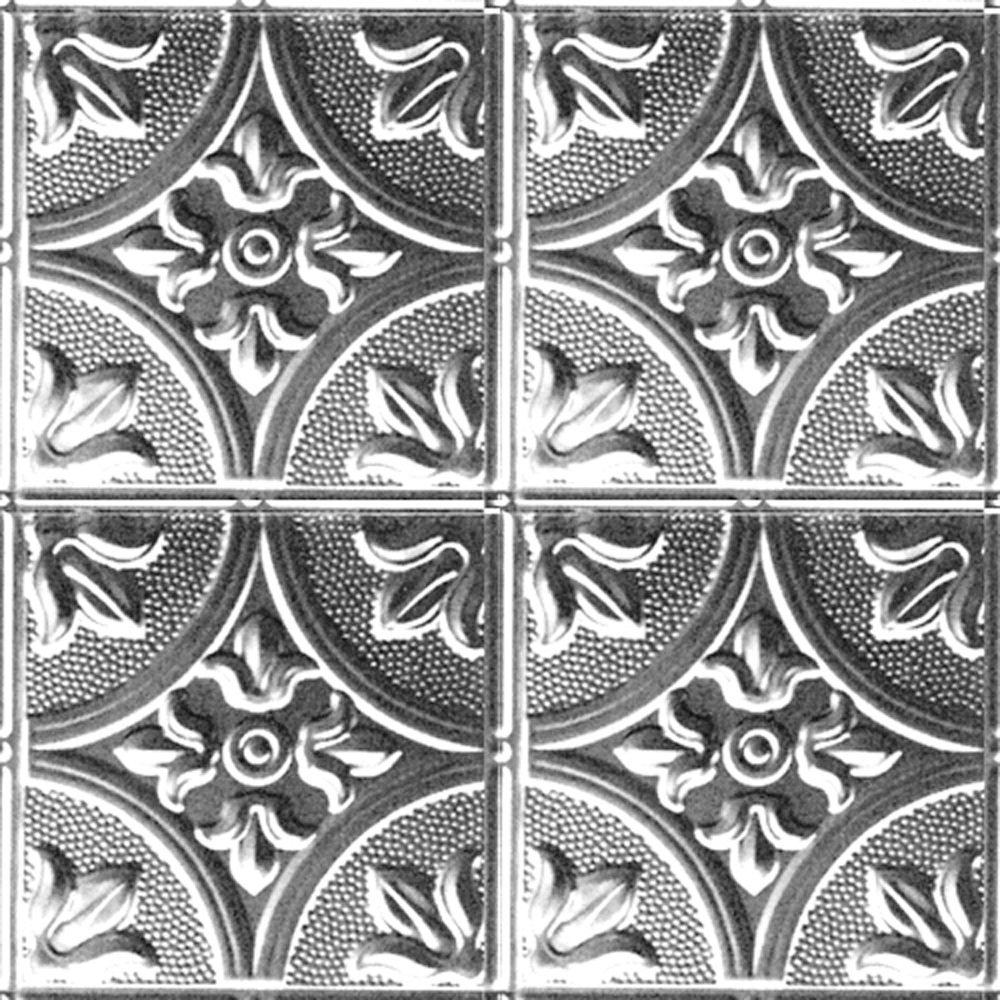 What to do? It came to me in a vision. Fabric!
I got 8 yards of a simple grey cotton for under $30. Score! After painting the metal grid a soft grey with spray paint, it was time to upholster. I stapled the fabric tightly on each tile.
The cats helped.
To make the fabric stiffer and to improve the durability, I Mod-Podged each tile after upholstering it, which gave it a soft sheen.
I'm not going to lie – this was a time consuming process. I would not recommend for a room much bigger than a few hundred square feet. Quips about building myself the prettiest padded room bounced through my mind. Who upholsters ceiling tiles? Me, apparently. Crazy though the project was, it solved the ugly ceiling problem.
Next, it was time for artwork. I love me some Fixer Upper and all the farm-housey goodness. Creating farm house style signs is super simple with a home printer and good-old fashioned pencil. Create the wording on your computer' word processing software, scaling the size of the letters to fit your desired surface. Print it out and line it up. Color the flip side of the letters with pencil, then rub the outline of each letter by tracing with a pencil on your desired surface. Finish with a paint pen, distress as desired, and done.
With my stash of left over wood and chalk paint, I pulled together this:
And here is the finished room!
Nobody likes doing laundry, but a pretty room helps!